Unleash Your Dog's Potential as a PSD
This self-paced and affordable course will help you turn your furry friend into a certified Psychiatric Service Dog (PSD) through specialized training that gives them federally-protected travel and housing rights.
Start Learning Together ↗
Man's Best Friend
Just Got Even Better
This fun and straightforward training course is the easiest way for you to turn your pet into a Psychiatric Service Dog (PSD) in a self-paced and fully-online format.
Traditional certifications cost up to $30,000 and can take several years, but we are offering the ability to self-train at home to be a PSD in as little as 30 days for just $299.
Did you know, that PSD's?
Receive federal protection
Undertake specialized training
Perform tasks for owners with disabilities
Can enter all public places, including restaurants, movie theaters, and grocery stores
Ride on all forms of public transportation and fly for free
Under Federal law, PSDs must be accepted into all public places.

Course Content
This fully digital and self-paced 10-section training program consists of 51 comprehensive course lessons that are simple and easy to follow. Owners will gain all the skills and tools required to train and own a PSD, including necessary skills, communication, medication, detecting emotions, handling distractions, and much more.
These sections include:
What is a Psychiatric Service Dog?
Being a responsible owner and trainer
Understanding your dog
Teaching effectively
The basics & getting ready
PSD tasks & PSD fundamentals
Public access tests
Living and traveling with your PSD
Get the Course Here ↗
Communicating with your dog
Essential PSD skills
Keeping a calm demeanor
Medication reminders
Detecting anxiety, fear, or flashbacks
Handling distractions
And much more!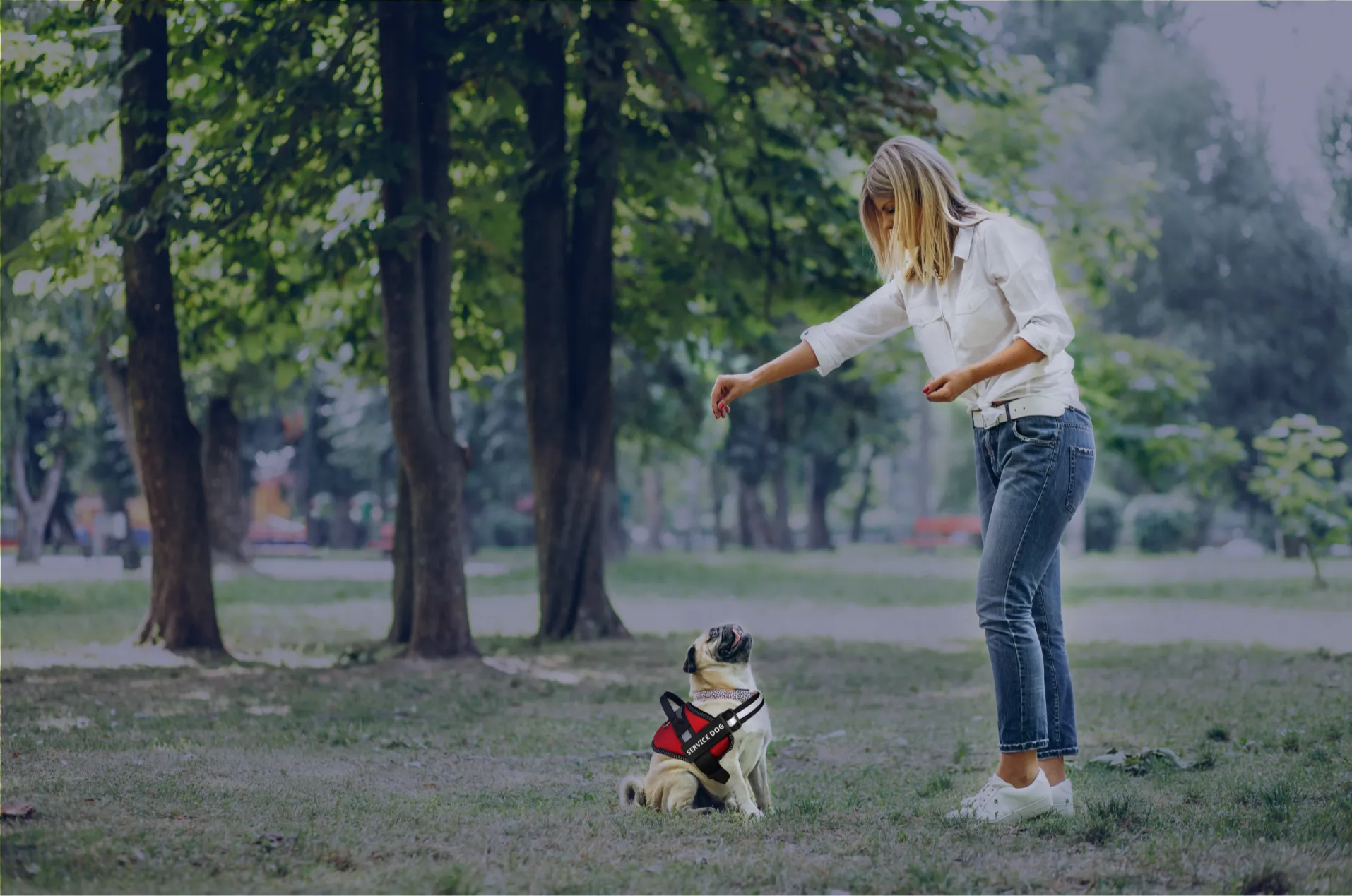 Find Out What All The Bark Is About
What pet parents are saying about ICTI's PSD Training Course
Olivia Patterson - Albany, NY
"My Dog Now Watches My Back" Amazing!!!
Thanks to this program, my dog now watches my back. She walks into the room and turns the lights on for me. And for the first time in a long time, I've actually been okay while shopping.
Start learning today!
Get on the path to training your dog as a PSD...
and never leave home without your four-legged family member again!
Level: Beginner
Duration: 12 hours
Video Modules: 77
Lifetime Access
51 lessons
Access from any computer, tablet, or mobile